75th Independence Day: Test your knowledge of India and the freedom struggle with these Independence Day quiz questions and answers.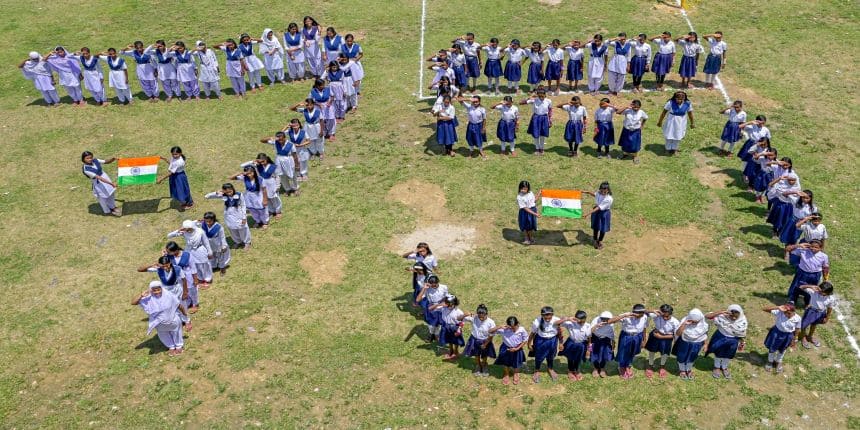 Independence Day 2022: Students make human chain in a formation that reads 75 years of Indian Independence in Nadia, West Bengal (Picture: PTI)

NEW DELHI: Bedecked in tricolor and immersed in festivities, the country will observe the historic milestone of 75 years of independence on August 15.
As part of the Independence Day celebration this year, the Government of India has started the 'Har Ghar Tiranga' campaign as part of which national flags are being hoisted and displayed at homes, public offices and educational institutions. On prime minister Narendra Modi's call, people in various cities are also organizing 'Tiranga Prabhat Pheri' to foster patriotism.
Moreover, the national flag will be hoisted across six continents in six different time zones and three oceans on August 15 on Indian Navy ships. With COVID-19 cases declining, most of the festivities will return offline, two years after the pandemic started spreading around the world.
As part of the celebrations, Careers360 has brought to you an Independence Day 2022 quiz with 10 questions on freedom fighters, India, and its people. The Independence Day quiz with answers that jog students' memories on the freedom struggle and also more recent policy changes. Check the correct answers at the end of the Independence Day quiz.
Happy Independence Day!
Q1 The national emblem–Lion Capital of Ashoka was recently built atop which important building in India?
a) Supreme Court of India
b) Parliament of India
c) Central Vista
d) India Gate
Q2 The Government of India amended the 'National Flag Code' this year. Which of the following is the change?
a) National Flag can be hoisted at night
b) National Flag can be flown at half mast
c) National Flag can be printed or embroidered on cushions, handkerchiefs, napkins
d) National Flag can be hoisted with other flags
Q3 The partition of British India was outlined by a plan which resulted in the dissolution of the Crown rule in India. What is this plan called?
a) Radcliffe Plan
b) Nehru Plan
c) Gandhi Plan
d) Mountbatten Plan
Q4 Who among the following is known as the 'Mother of Indian Revolution' who hoisted the national flag on foreign soil?
a) Sarojini Naidu
b) Indira Gandhi
c) Bhikaji Cama
d) Annie Besant
Q5 One of the most trusted companions and advisors of Rani Laxmibai, was a Dalit warrior from the Kori caste, who played a pivotal role in what is known as the first war of Independence. What is her name?
a) Jhalkaribai
b) Neerjabai
c) Meerabai
d) Bhimabai
Q6 Who selected the national anthem of India?
a) Rabindranath Tagore
b) Bankim Chandra Chatterjee
c) Subhash Chandra Bose
d) Lala Lajpat Rai
Q7 Around one crore school students across Rajasthan recently set a world record under Azadi ka Amrit Mahotsav campaign. What activity was performed by students?
a) Singing patriotic songs
b) Hoisting world's biggest tricolor flag
c) Lighting 1 crore earthen lamps
d) Playing kabbadi
Q8 To promote Swadeshi goods and boycott foreign goods, who set up the Bombay Swadeshi Co-op Stores Co. Ltd?
a) Dadabhai Naoroji and JRD Tata
b) Bal Gangadhar Tilak and JRD Tata
c) Mahatma Gandhi and Ghanshyam Das Birla
d) Lala Lajpat Rai and Ghanshyam Das Birla
Q9 Union Cabinet voted to mark November 15 as Janjatiya Gaurav Divas in 2021, to remember the contribution of tribal freedom fighters. What is significant about the date?
a) Sido Murmu and Kanhu Murmu's death anniversary
b) Santhal rebellion started
c) Ulgulan movement started
d) Birsa Munda's birth anniversary
Q10 While Mahatma Gandhi gave the clarion call of Quit India, the slogan was coined by a socialist and trade unionist who also served as mayor of Mumbai. Who is this person?
a) George Fernandes
b) Yusuf Meherally
c) Jayaprakash Narayan
d) Shreedhar Mahadev Joshi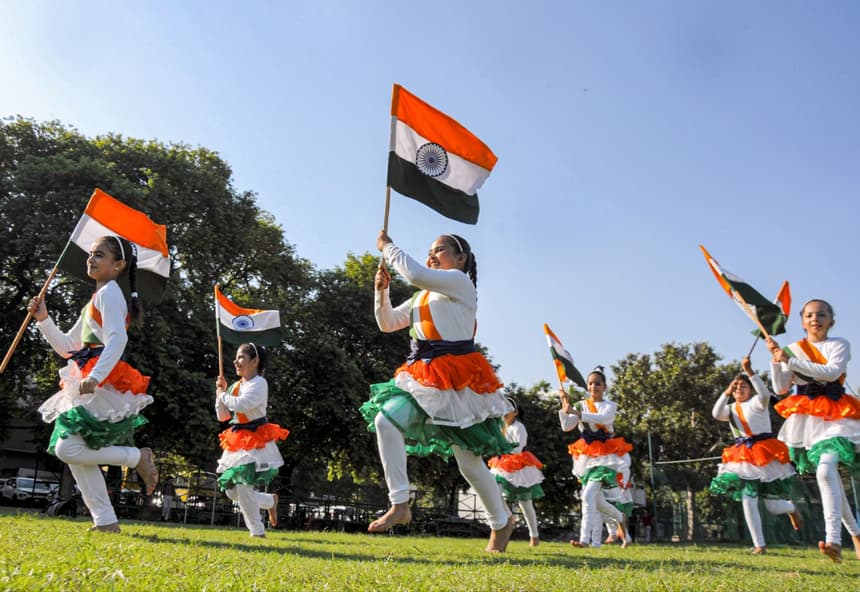 Independence Day celebration at school in Amritsar (Picture: PTI)
Independence Day 2022 Quiz: Answers
The correct answers to the Independence Day quiz questions are given below.
Answers:
Q1 – b)
Q2– a)
Q3 – d)
Q4 – c)
Q5- a)
Q6- c)
Q7– a)
Q8- b)
Q9– d)
Q10– b)
---
Follow us for the latest education news on colleges and universities, admission, courses, exams, schools, research, NEP and education policies and more..
To get in touch, write to us at news@careers360.com.